Real Estate prices have been increasing in Meridian, Idaho for the last three years at a pretty steady rate. As you can see  in the graph below, the most recent median home sales price was $215,561 in October of 2013. That is a 16% increase from October of 2012 at $185,910. October marked the highest median home sales price for quite some time. The median home sales price has risen about 14% from 2012 and about 14% from 2013. That is a 28% increase over the last two years.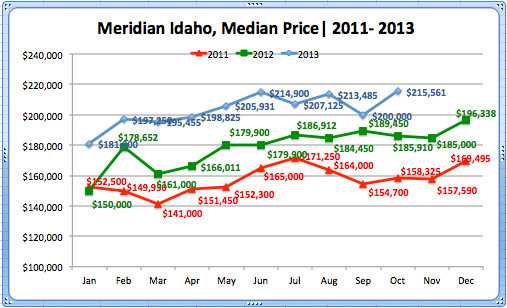 In June 2013 (at the peak of the market this year), there were 263 sold homes in Meridian. Compared to June of 2012, there were 173 homes sold, an increase of 52%. Also in August, 230 homes were sold in Meridian which is 47%  higher than in 2012 at 156 sold homes. On average home sales have increased by 14% this year. Home sales tend to drop slightly through the holiday season, but tend to pick right back up in February.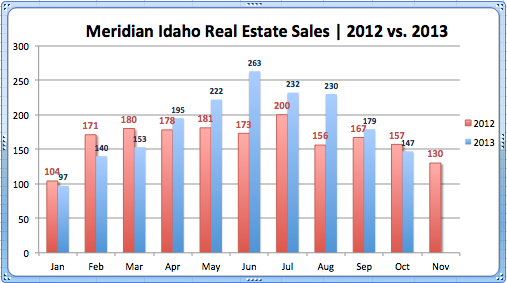 As you can see in the graph below, the foreclosure rate in 2013 has also dropped significantly. In January of 2012 the foreclosure rate was at 45.8% of home sales. In January of 2013 the foreclosure rate dropped down by 37% (from the previous year) to 29.8% of home sales. Between now and January, the foreclosure rate has dropped to 8.2% of home sales which means it has dropped by 75% this year. This is a reflection of a recovered market not only in Meridian but also all throughout the county.