Meridian Real Estate is off to a strong start  this year with an increase in home sales, an increase in median home sales price, and a decrease in the foreclosure rate.
As you can see in the graph below, 119 homes sold in Meridian, January  of '14. This is a 23% increase from sales January '13, and a 43% increase compared to the 83 homes that sold in January of 2012. The rise we have seen in the last 3 years is very consistent. Each year January sales rose by around 20%. In the graph below, you can see that home sales increased almost every month in 2013 aside from March and October/November. The average monthly sales in 2012 was 156, and in 2013 179 per month; an increase of 14%.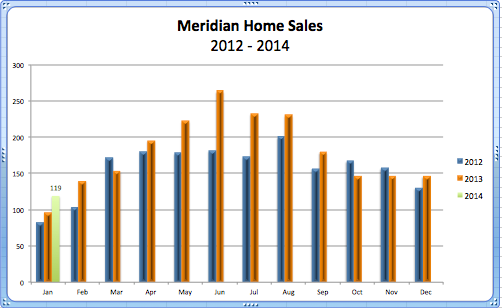 The foreclosure rate fell to 10.9% of home sales in January '14; 18% lower than last year in the same month, and about 35% lower than January, 2012. Traditionally, in the last two years January marked the highest foreclosure rate seen all year; dropping significantly until it hit a low in September of both years. In 2013 the foreclosure rate got all the way down to 6.7% of home sales (in September); the lowest seen in years.
The average foreclosure rate in 2012 was 28.3%, and in 2013 it was 13.8%. This means that not only were sales 14% higher in 2013 but the foreclosure rate was also 14% lower as well.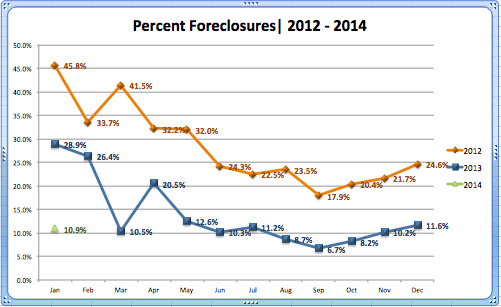 Finally, the median home sales price also increased dramatically in January '14 compared to the last couple of years. The median was $223,500, a 23% rise from 2013. It also rose by 9% from December of 2013 (a $23,000 increase in just one month).
The average median home sales price in 2013 was $203,824, and in 2012 it was $178,627. All of this is great news for Meridian real estate and hope to see a similar increase in sales, home prices and a continued drop in the foreclosure rate as the year unfolds.