The make-up of Meridian Idaho real estate has been changing over the year.  That is, the number of non-foreclosures greatly exceeds the number of foreclosure sales.  As you can see in the graph below, the disparity has grown in recent months.  For instance, there were 133 non-foreclosure sales in October.  Meanwhile, just 34 foreclosure properties sold, or only 20% of the market share.  Compare that to January where the foreclosures nearly equaled the number of traditional sales.  When referring to foreclosure data on real estate in Meridian, we are gathering numbers for bank-owned homes, HUD properties, and short sales.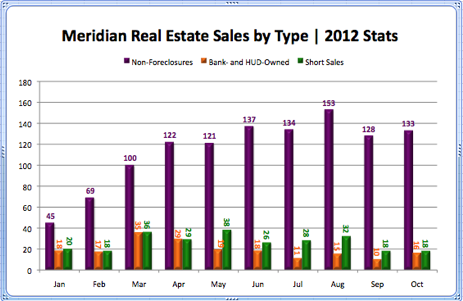 The growing trend in the Meridian Idaho real estate market for traditional sales can also be seen when comparing year-over-year data.  For example, of the 200 home sales in August this year, 153 were non-foreclosures.  That means the foreclosure market share was only 23.5%.  Comparatively, in August last year there were 166 total home sales and 87 were non-foreclosures.  So, the foreclosure market share in Aug. 2011 was nearly half of the total sales- at 47.6%.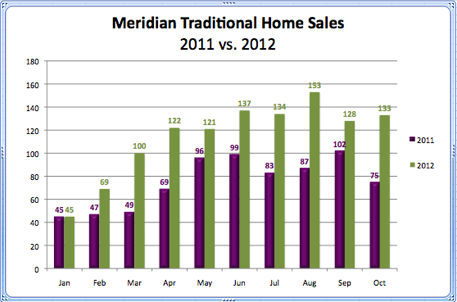 Median home prices are also rising for Meridian Idaho real estate. September saw the highest median price we've seen in years at $189,450.  And, since July, those numbers have been steady.  Overall, according to the graph below, the median sold price for Meridian Idaho real estate has been higher this year than in years past, with only a few exceptions.