Meridian ID Real Estate | 2011 vs 2010
Meridian ID real estate sales rose steadily in the beginning of 2011.  In fact, 2011 home sales matched or exceeded 2010 sales 8 out of 12 months.  Total home sales in Meridian Idaho for 2011 were 1,759, just slightly higher than the 1,669 sales of 2010.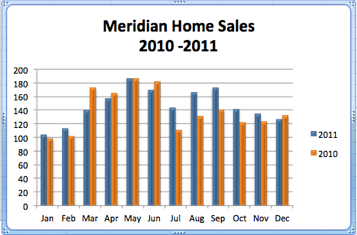 Whereas total Meridian ID real estate sales for 2011 exceeded 2010 sales, total foreclosures (short sales, bank-owned and HUD properties) were lower in 2011.  Total foreclosures for 2010 were 849, or almost 51% of total Meridian Idaho home sales.  Total foreclosures for 2011 were 730, approximately 41% of total home sales.  As shown on the graph below, 2011 foreclosures dropped from a high of 65% in March to 49.6% in December, much lower than the 66.2% recorded in December 2010.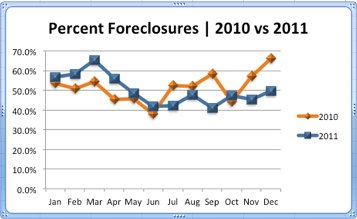 As shown in the graph below, 2011 median home prices were also lower than 2010 for most of the year.  However, whereas December 2010 posted the lowest median home price of the year at $145,000, December 2011 posted the highest at $169,495.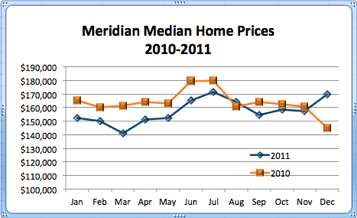 Search Meridian ID real estate on our advanced MLS search now.